As I'm currently up in bed trying to fight my jetlag, I figure this is the perfect time to whip out a good post about my amazing trip to Korea with Central Avenue Breakdown.
We began rehearsals the very day my band, Lucky Sons, had our debut show…which is why you haven't heard from me since! (By the way, the gig was a complete success and we can't wait to get up and running again for some August shows in the works! Check out video footage from the show at our YouTube channel)
The rehearsal process was a quick but great one and before we knew it, we were on a good ol' 14 hour plane ride to South Korea!
It was a whirlwind trip to be sure, full of delicious meals, sightseeing, and a LOT of hours spent in the beautiful Art Pia theatre we called home.
Check out some footage from one of our autograph sessions with the Korean fans…
And a photo of the full cast and crew on stage after our final performance: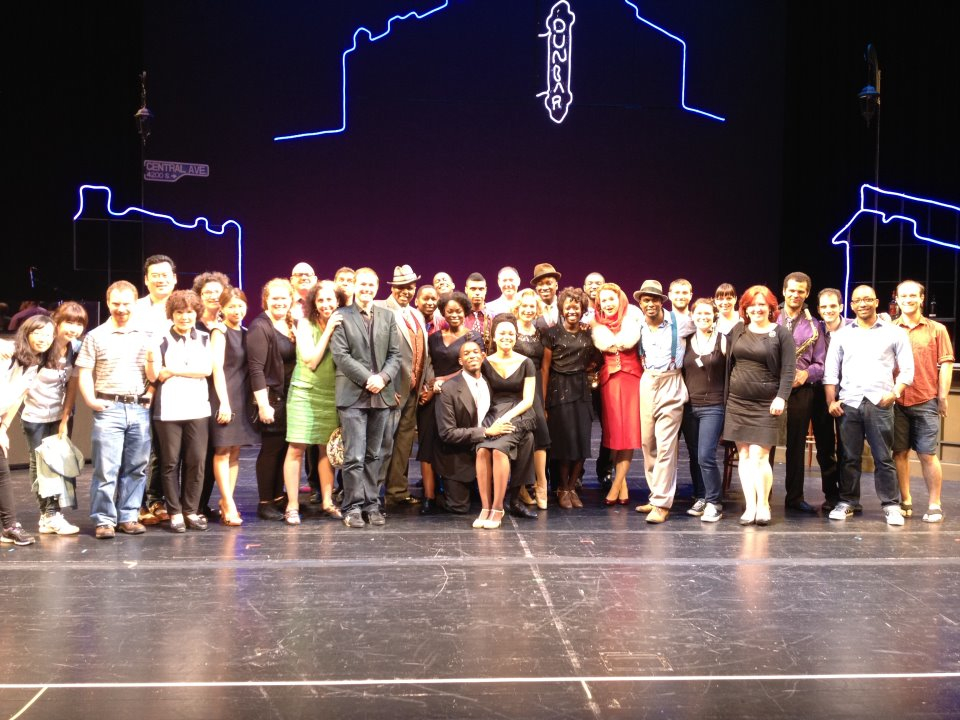 We performed to wonderful audiences who really loved the music, the story, and the characters, we got to participate in the lovely Daegu International Music Festival, and we got to spend a week in a place most of us had never visited! I'm not sure I ever would have made it to Korea on my own, so I'm unbelievably grateful to have had this opportunity. Central Avenue Breakdown is truly something special, and being a part of it makes me trust that the universe is putting me exactly where I'm supposed to be!
That said, now we are ready to bring this incredible production back home to NYC for our encore run at NYMF next week!
Performances are as follows:
Thursday, Jul 19th, 2012 at 8:00 pm
Friday, Jul 20th, 2012 at 5:00 pm
Friday, Jul 20th, 2012 at 9:00 pm
Saturday, Jul 21st, 2012 at 1:00 pm
Sunday, Jul 22nd, 2012 at 5:00 pm
Sunday, Jul 22nd, 2012 at 9:00 pm
and all performances will be at The Pershing Square Signature Center (480 West 42nd Street ).
You can click the links to each performance to purchase tickets directly from NYMF.
For more information, you can always check out www.centralavenuebreakdown.com
I hope to see you on the Avenue!!
Cheers,
Rebecca